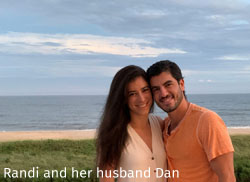 Recently, The Tepper Foundation generously invested $250,000 in the Coastal Resilience Growth Fund. As one of the most significant philanthropic families in the Northeast, we are honored and grateful they made the decision to add National Wildlife Federation to their portfolio. We recently spoke with Randi Tepper, COO of The Tepper Foundation to learn more about her, the Foundation, and their decision to invest in the growth fund.
What is your favorite outdoor experience or way to connect with nature?
I love mountains and hiking. Several years ago, my husband and I took a 3-month backpacking trip through South America where we went on some amazing treks. We got married on top of Aspen Mountain.
Tell us a bit about The Tepper Foundation, its mission and focus areas and your role.
The Tepper Foundation values equity and opportunity for all. We invest our capital and expertise to address issues through innovative, effective, and nimble solutions. Our current areas of focus include economic opportunity, food security, healthcare, education, disaster relief and prevention, and giving to Jewish and anti-hate causes.
I am still new in this role. I have been the COO for about 1.5 years
Why did you make the decision to add climate to your areas of focus?
We have begun investing in the climate space because we see it as an essential issue of our time. We believe that none of our other work matters if the earth is not a safe, habitable place to live for ourselves and future generations.
Why did you decide to invest in NWF and the Coastal Resilience Growth Fund in particular?
NWF has a history of doing great work, and we admire the way they approach conservation and the climate crisis with an equity and justice lens. We were impressed by how all of this came together through the Coastal Resilience Growth Fund. This fund has incredible potential; it can tackle coastal resilience at scale by convening partnerships across multiple organizational levels, pulling on policy levers, and selecting the most efficient solutions.
What are your primary objectives of The Tepper Foundation/NWF partnership?
Our primary objective is to learn. We are new to climate funding, and the NWF team has been open and willing to share what they are doing so we can improve our understanding of the field and of different ways to address the climate crisis.