Dear Friend,

Happy Spring! Being able to get outside and work alongside fellow Park Advocates like you has been the highlight of the season. Volunteers and staff on our Mid-Atlantic team have been advocating both on Capitol Hill and in our parks. We are inspired by both the current and next generation of Park Advocates who pitched in to enhance national parks—from the mountains of West Virginia to the wetlands of Fort McHenry in Baltimore, MD. I'd like to thank the many volunteers who made National Park Week a success and hope that you consider joining us at an upcoming event.

Here are other updates from our campaigns to protect national parks around the Mid-Atlantic: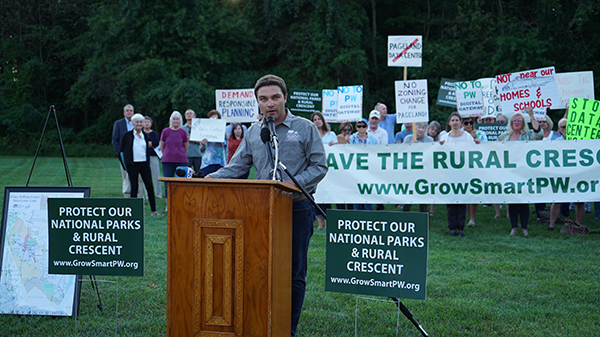 New Polling Finds Virginians Want National Parks Protected from Data Centers
Park Advocates continue to fight proposals to build loud, environmentally unfriendly data centers at the edge of Manassas National Battlefield Park and Prince William Forest Park. Last week, we released new data showing that Virginians overwhlemingly support protecting their national parks from massive, improperly sited data center development.

This new polling found that a stunning 86% of surveyed Virginia voters would support legislation that would prohibit large industrial data centers from being built within a mile of a national park, state park, or other historically significant site. 57% percent of those voters would strongly support this legislation, and 96% of voters would react favorably if their elected representative took a strong stand to support such legislation.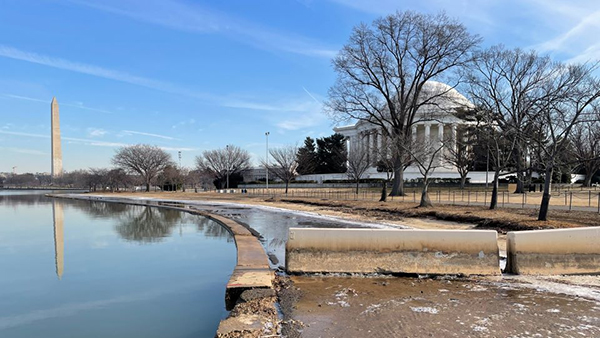 Your Advocacy in Action: Great American Outdoors Act Making Big Improvements in Parks
Thanks to your advocacy, for nearly three years the Great American Outdoors Act has provided billions of dollars in funding to fix our national parks' crumbling roads, decaying buildings, outdated water systems and other repair needs. Here are a handful of projects underway in our region:
Rehabilitation of the George Washington Memorial Parkway: Reconstruction of 7.6 miles of the parkway heavily used by motorists in Virginia.
Restoration of the Belmont Paul House in Washington, DC: Rehabilitation of the historic home of suffragist Alice Paul and former headquarters of the National Women's Party.
Reconstruction of the National Mall's shoreline in Washington, DC: Restoring portions of the crumbling seawall that has been heavily impacted by flooding (see image above).
Rehabilitating Clara Barton National Historic Site in Maryland: Restoring the 130-year-old historic home of Clara Barton that was the original headquarters of the American Red Cross.
Repairing U.S. Route 209 through Delaware Water Gap National Recreation Area in Pennsylvania: Rehabilitating the park's primary north-south route through the park that benefits both visitors and local residents.
NPCA and our members and supporters are urging Congress to extend the Great American Outdoors Act's maintenance and repair funding for at least an additional five years to ensure our parks can continue to welcome visitors and protect the natural and cultural resources that tell our nation's history.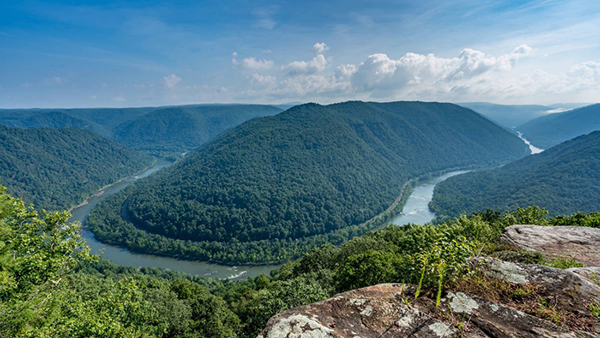 New River Gorge National Park & Preserve Expands by Nearly 1,000 Acres
We were thrilled to join Senators Joe Manchin (D-WV) and Shelley Moore Capito (R-WV), Representative Carol Miller (R-WV), National Park Service Director Charles Sams, and our partners in celebrating the addition of nearly 1,000 acres to the park's preserve. This new public land available for hunting and outdoor recreation was made possible by The Conservation Fund and funding through the Land and Water Conservation Fund.

We are partnering with wildlife experts and researchers to develop solutions that would allow safe migrations for threatened and endangered wildlife, including salamanders and box turtles. Unfortunately, West Virginia ranks as the top state for Wildlife Vehicle Collisions, meaning that drivers in the state have a 1 in 37 chance of being involved in an animal collision. These collisions are dangerous to drivers, including national park visitors, and are deadly to people and animals, in addition to burdening drivers with economic strain.

ICYMI: Podcast highlights effort to restore the Carter Barron Amphitheater
At a park that once served as a segregating line in Washington, DC, a unique outdoor theater brought people together for nights of music and poetry under the stars. Structural problems forced the Carter Barron Amphitheater to close in 2017. Can a group of advocates restore and reopen it for a new generation? The Secret Lives of Parks goes behind the scenes in Rock Creek Park.

Calling All Young Park Advocates—We Need You!
Looking for an opportunity to make a difference and bring a unique perspective to efforts to protect our public lands? Want to become more engaged in civic processes and environmental issues in your community? Love our national parks? NPCA's new Mid-Atlantic Young Professionals Council may be a place for you. We are excited to announce the launch of our first Mid-Atlantic Young Professionals Council for Park Advocates under the age of 35 interested in volunteering with NPCA to protect and enhance national parks. Stay tuned as the application will launch in June.

Meet us in the national parks. Join us at an upcoming NPCA or partner event! We invite you to learn more about the Mid-Atlantic parks, attend an upcoming NPCA event or take action to protect parks.
Thank you for being an advocate for your national parks!


Michaela Pavlat
Outreach & Engagement Sr. Coordinator, Mid-Atlantic
Images from top: Girl Scouts learned about national parks and planted trees with West Virginia Program Manager, Samantha Nygaard © Monica Zalaznik; Kyle Hart, Mid-Atlantic Program Manager, speaks at a rally ahead of a public hearing on Data Centers © Charlie Paullin/The Mercury; Shoreline restoration of the National Mall is imperative for protecting monuments from increased flooding © NPS; New River Gorge National Park & Preserve from an overlook in Grandview, West Virginia © Steveheap/Dreamstime Photo