Ronnie Cummins was a giant of a person. He had an aura that lit up the room and a command of language that would enthusiastically inspire audiences. He was the ultimate organizer with networking skills and bringing people together to fight for important causes - peace, fairness, organic and regenerative food and farming, non-GMOs, indigenous rights, democratic populism, climate, natural health, and others. He could unite different groups and inspire them to organize for these causes. I saw this at the beginning of Regeneration International when he funded people from all over the world to come to Costa Rica for our formation meeting and then to Paris for the UN Climate Change meeting in 2015. His role was essential in getting networks to spread the messages about regenerating our food and farming systems and why it started from being unknown in 2014 to become a global movement in the news every day. Ronnie saw that the purpose of democratic populism was to empower and make a better life for all the people and our planet. He had a strong sense of the joy of life and liked to party, play guitar and socialize. From him, I learned: "Make the revolution fun!" - André Leu

Last month, we lost Ronnie due to cancer complications, but we will carry his legacy forward and continue this fight. Here is a message from RI's Steering Committee members André Leu, Vandana Shiva, and Reginaldo Haslett-Marroquin in his honor.

Watch the Video
Secrets of the Soil Podcast with Regen Ray: The Power of Photosynthesis Maximizing Plant, Health, and Soil Regeneration with André Leu
As the host of the Secrets of the Soil podcast, I've had the privilege of speaking with some of the most innovative and inspiring experts in regenerative agriculture. Through these conversations, I've learned so much about the power of nurturing soil and promoting regeneration. Listen to this episode about The Power of Photosynthesis with André Leu.

The capture of carbon dioxide, water, and sunlight to make glucose, the essential molecule of life. The other chapters discuss how all other molecules of life, including carbohydrates, proteins, and hormones, are built from glucose, and how maximizing photosynthesis is the key to building healthy cells and regenerating soils.

The book also covers the importance of managing cover crops and weeds, as well as balancing minerals to ensure optimal plant growth. The author stresses that dead plants and bare soil do not photosynthesize, and that the more plants put in an area, the better, even if they are regarded as obnoxious weeds, as they provide the most organic matter and molecules of life.

The author also discusses how managing water and nutrients is essential in growing healthy plants, and how nutrient deficiencies and excesses can be corrected to ensure optimal plant growth.

Learn more


Should Regenerative Agriculture Follow Organic's Path?
The organic movement forged a path for a federally recognized standard for food. Should regenerative follow its course?

Regenerative agriculture has been the buzzy theme in agriculture for a few years with big investments from big food companies starting in 2020. Big food companies have created programs to engage their suppliers and fund a transition to regenerative practices such as no-tillage, cover cropping, crop and livestock rotation and pollinator-friendly habitats.

Private label certifications such as The Savory Institute, the Rodale Institute and A Greener World, have popped up in the last three years, adding a veneer of respectability to such changes. But it's still the wild west, and these developments haven't resulted in a shared standard or even a definition that everyone agrees upon.

There isn't a consensus on what is considered regenerative, how to correctly enforce those changes and how to measure the effects.

More information



Regenerative Research: Tillage & No-Till Systems
Issue Summary: Can we regenerate the land if we also voluntarily disturb it? The question is at the core of the conversations around tactics in regenerative agriculture, which is challenging the paradigms related to field preparation.

No-till systems are often introduced to accomplish goals around increasing soil biology and fungal networks, rotating cover crops with cash crops, and running less machinery across the land (lower diesel fuel costs). Some lightly tilled systems and strip-till systems also report the ability to grow biology, balance chemistry and build biodiverse ecosystems.

What is tillage?

Tillage is a centuries-old agriculture practice that farmers use to remove plant life from their fields, break up hardpan and crusty layers, and help incorporate fertilizers.

What is no-till, exactly?

It is exactly what it sounds like: a conservation-based farming system that leaves the soil undisturbed. Instead, successful no-till managers use living, biodiverse crops to generate deep root systems that do the mechanical work of breaking up hardpan layers, generating soil biology, balancing chemistry, and creating fungal networks. They then plant into the living root system—timing is everything—which can help stimulate germination and crop resilience.

Learn more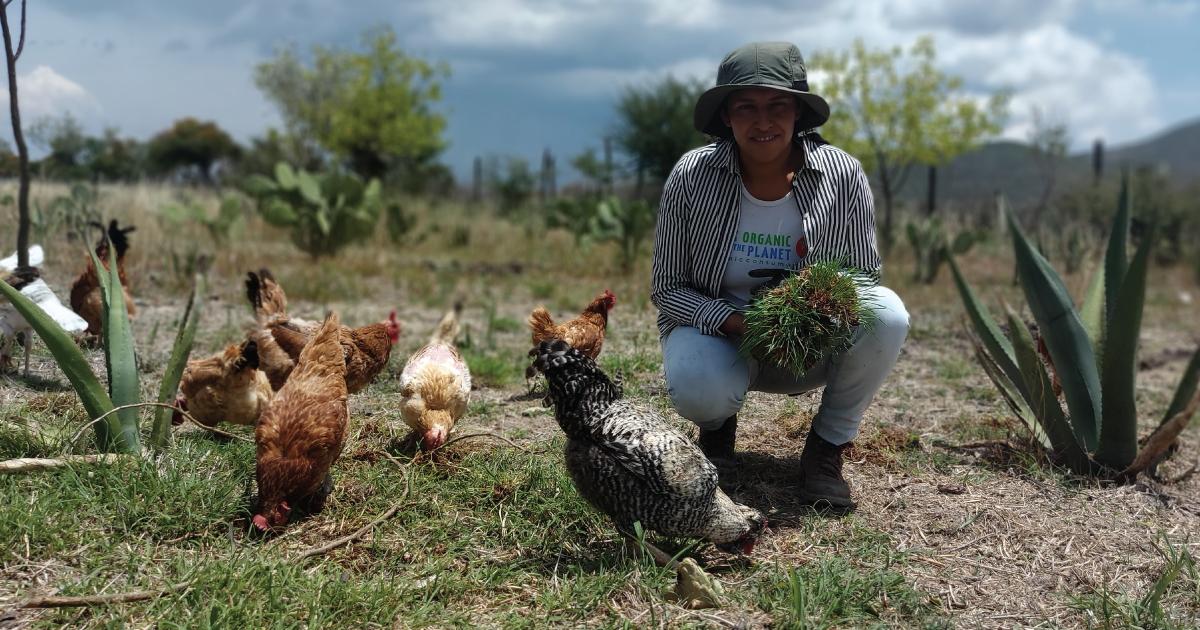 Regenerative, Organic, and Agroecology: What's the difference?
Regenerative, organic, agroecological. You might encounter all of these terms in the search for 'sustainably' grown food (there's another!). This word soup is a great sign that lots of farming communities are experimenting to find a better way, but as a consumer, it can be pretty confusing.

Here's a quick guide to each term, to help you make sense of labels, and separate the green from the greenwash.

What is organic farming?

Organic farming first arose in the 1940s, as a reaction against the industrialisation of agriculture. These days, it's got a strict legal definition, and to call your produce "organic" you must be certified. In the UK, most organic goods are certified by the Soil Association or OF&G – just look for their stamps on the label.

Above all, organic farming is about nature: protecting it, enhancing it, and working in harmony with rather than fighting against it.

Learn more
Essential Reading and Viewing
Precious Phiri on the Wisdom of the Elders and the Role of Regeneration at the Communal Level

Can regeneration stand in the modern century? What is the connection between the modern modes of Regenerative Agriculture and the traditions of indiginous wisdom? In this episode, Daniel has one of the most pivotal conversations with his friend, Precious Phiri, that Denusion has yet to air! Precious talks about her early and hard life in Zimbabwe, her work to heal the communal rural lands of her peoples, and the wisdom of the elders that bring hope to the past, present, and that which is still to come. This is an episode you won't want to miss!

La Esmeralda: Regenerative Specialty Organic Coffee Farm

La Esmeralda, farm in the Municipality of Circasia is located at 1400 meters above sea level. Approximately 10 kilometers from the capital of the department. We have been working in this area for about 9 years with different varietal of coffee, a different coffee growing model."

The Rise of Regenerative Agriculture: How Food Companies are Catalyzing Regenerative Farming Practices

When Regenerative Agriculture becomes a selling point, what exactly are consumers and restaurant companies buying? The term has gained cachet in the past five years, and agricultural business people are hashing out metrics to make it meaningful. We spoke to leading participants about their intentions, their reality, and the press to unite the two.

Regenerative Organic Agriculture Improves Soil, Fights Inequity - See How this Farm is Pioneering the Practice

The Ecology Center's mission is to serve the region as both a farm and educational center. They are pioneers in what's called Regenerative Organic Agriculture (ROA). In short, ROA focuses on the long-term health of the land in lieu of short-term profits. It rejects many of industrial agriculture's detrimental practices, which have led to a loss of genetic crop diversity, inequitable working conditions, and have contributed to climate change.

ASEED Europe Newsletter

After a long cold winter, spring is finally here and we are very excited about it! We are planing more outside events in the coming months to be able to enjoy the nice weather and do more hands-on farming activities. The preparations for our biggest project of the year, the Food Autonomy Festival #7, have started and we can't wait!

Grassroots Solutions to the Global Food Crisis

Food sovereignty remains our answer to the food crisis. Now more than ever our communities and countries need to focus on agroecological food production. As this edition shows, we have a multitude of praxis and political proposals for solutions, but we need to build our power to fight the extractive and profit driven corporations from overtaking our food system.

The Possibilities of Regeneration

Featuring Lyla June Johnston, the film explores the origins of regenerative agriculture, offering a story that is both new and ancient in its roots. The film was co-written and narrated by Lyla June Johnston, an Indigenous public speaker, artist, scholar, and community organizer, the film takes a holistic approach to regenerative stewardship, expanding the idea of regeneration beyond the principles popularized in the relatively young regenerative agriculture movement.

What is Holistic Management?

We are over-the-moon excited to bring you a brand new animated short film on Holistic Management. We sometimes hear from newcomers that Holistic Management, since it is so much more than a grazing system, can be difficult at times to fully understand. With the grazing planning, the decision-making, the Holistic Context, the key insights, and more… how do you convey such a powerful framework to someone just getting started?

Regeneration International relies heavily on individual donors to fund our work around the world. Please consider contributing today.
Regeneration International is an independent 501(c)(3) nonprofit, dedicated to building a global network of farmers, scientists, businesses, activists, educators, journalists, policymakers and consumers who will promote and put into practice regenerative agriculture and land-use practices that: provide abundant, nutritious food; revitalize local economies; regenerate soil fertility and water-retention capacity; nurture biodiversity; and restore climate stability by reducing agricultural greenhouse gas emissions while at the same time drawing down excess atmospheric carbon and sequestering it in the soil.