Dear Friend of the National Parks,
Read on to discover the latest victories, challenges and conservation opportunities ahead.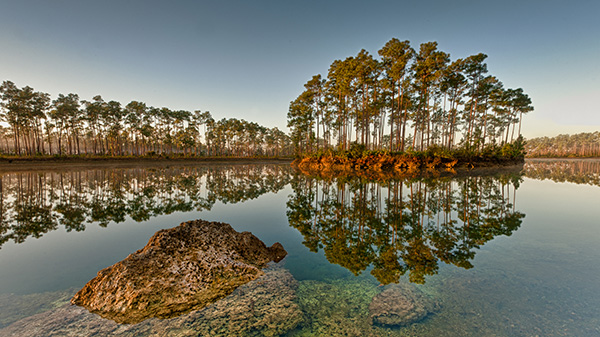 Celebrating Everglades National Park's 75th Anniversary
NPCA is celebrating a big anniversary for one of our beloved parks! For 75 years, Everglades National Park has protected the largest subtropical wilderness in the United States. Designated by President Harry Truman in 1947, it was the first national park designated for its abundant biodiversity. To celebrate, NPCA hosted the latest installment of our Park Talk educational series with a virtual event titled "River of Grass and Beyond: Exploring the Biodiversity of Everglades National Park." If you missed the live webinar, you can check out the recording here for a virtual tour of the plants and animals that call Everglades National Park home. Fun fact: did you know over 1,500 species live across the park's nine distinct habitats?!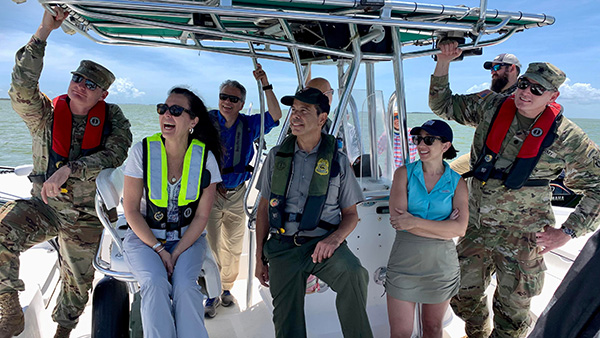 NPCA Joins Agency Leaders for Everglades Restoration Tour & Discussion
With recent record-high state and federal funding to advance Everglades restoration – including over $1 billion in restoration funding from the Infrastructure Investment and Jobs Act – it's an exciting and optimistic time for the Greater Everglades and the waters of South Florida! NPCA continues to work with key agency scientists and policymakers to advocate for restoration projects to deliver clean, freshwater south to Everglades National Park and the waters of the Florida Keys. NPCA's Senior Everglades Program Manager Cara Capp recently joined a group of state and federal agency leaders for an on-the-water discussion of restoration priorities and progress during tour of Florida Bay in Everglades National Park. The discussion was led by Shannon Estenoz, Assistant Secretary for Fish, Wildlife and Parks, U.S. Department of the Interior, as well as leaders from the U.S. Army Corps of Engineers, National Park Service, South Florida Water Management District, and Florida Fish and Wildlife Conservation Commission. With strong working relationships with key policy leaders and scientists, NPCA continues to lead advocacy efforts to bring more clean water to Everglades National Park.
Florida Keys Marine Protection Update
Summer 2022 is a busy season in the Florida Keys, as the Florida Keys National Marine Sanctuary prepares to release the Restoration Blueprint, a roadmap for the restoration and protection of treasured resources within the Sanctuary. NPCA has been a staunch advocate for increased measures to protect corals, seagrasses, fish and other wildlife to support the health of the Florida Reef Tract – the third largest barrier reef in the world – and the connected ecosystems of Biscayne, Everglades, and Dry Tortugas National Parks. The Sanctuary is also an important economic driver in the Florida Keys, supporting about 43,000 jobs in a county containing only 75,000 residents and contributing an estimated $4.4 billion annually to Florida's economy. The Restoration Blueprint is a significant opportunity to implement meaningful and lasting protections for this unique ecosystem and help achieve the administration's America the Beautiful goals by safeguarding 30% of our lands and waters by 2030. Stay tuned for updates on how you can get involved during the public comment period to support these critical actions:
Address water quality and the impacts of climate change
Expand Sanctuary boundaries to include Pulley Ridge, home to the deepest known photosynthesizing coral reef off the continental United States
Expand the number and size of marine protected areas designed to protect habitat and biodiversity, including the Tortugas Corridor
Prevent propeller damage in the Keys' shallow, sensitive habitats by slowing boats in appropriate shallow waters throughout the Sanctuary
Protect the most sensitive habitats with shoreline-to-reef zones, such as at Boca Chica and Carysfort Reef
Strengthen protections for areas of high biodiversity and wildlife corridors
NPCA Staff Appointed to Florida Keys National Marine Sanctuary Advisory Council

The Sun Coast team is pleased to announce that Marisa Carrozzo, Senior Coastal & Wildlife Program Manager, has been appointed by the National Oceanographic and Atmospheric Administration to serve on the Advisory Council for the Florida Keys National Marine Sanctuary. The Advisory Council is an interactive liaison between the community and NOAA and provides recommendations to agency staff and leadership on Sanctuary operations, research, restoration, and other items critical to Sanctuary management considerations. NPCA's appointment is especially timely given the upcoming release of the Restoration Blueprint and the many opportunities to improve the health of the Sanctuary and protect the quality of life and economy of the Florida Keys.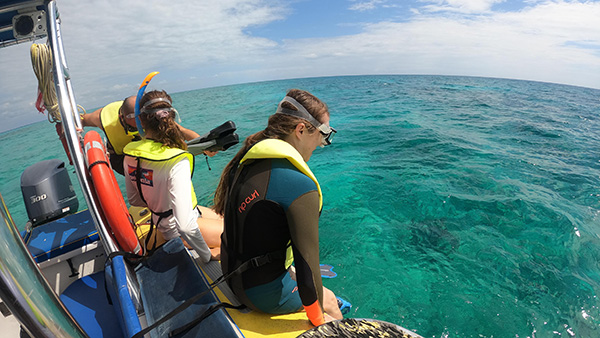 Engaging the Next Generation of National Park Advocates
After a long absence from in-person events, our Sun Coast team is absolutely thrilled to be connecting with students in our national parks once again! We have hosted boat trips with students from Florida Atlantic University, Florida Gulf Coast University, and University of Miami to explore our beautiful public lands and waters – over 70 students have joined NPCA so far this year for park trips! Our work ensures that young advocates and passionate community members are prepared to enter our national parks as eager and effective ecosystem stewards knowledgeable about endangered species, marine life, habitat fragmentation, and climate change. This work is made possible by our generous members and supporters! To make a donation that will go directly toward supporting youth and community engagement efforts in Florida, please click here: NPCA Florida Conservation Impact

Hi everyone! My name is Ashley Postlewait and I am a senior majoring in Environmental Studies with a minor in Journalism and Climate Change at Florida Gulf Coast University. I am passionate about advocating for the national parks and I am so excited to learn from this amazing team!

My name is Eliza Trevor I am a recent graduate of Wheaton College in Norton, MA where I majored in Historic & Environmental Preservation. This summer I am working as the Saltwater Underground Railroad fellow where I will be doing research and exploration to aid in the telling of these stories.
Thank you for all you do, and I hope you will stay connected with us at NPCA. Your support means so much!

Warm regards,


Cara Capp
Senior Everglades Program Manager, Sun Coast
Photos, from top: Everglades © Nagel Photography ShutterStock; Florida Bay group photo © NPCA; Florida Keys National Marine Sanctuary © Durden Images ShutterStock; Students on a recent boat trip wtih NPCA © NPCA